Newer posts are loading.

You are at the newest post.
Click here
to check if anything new just came in.
Cope With An Achilles Tendon Rupture
Overview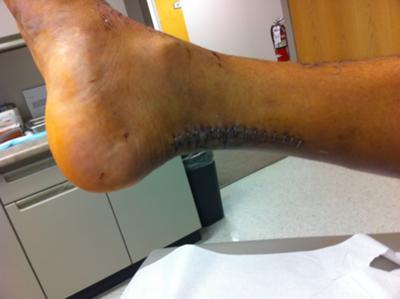 Achilles tendon is a strong fibrous cord present behind the ankle that connects the calf muscles to heel bone. It is used when you walk, run and jump. When the Achilles tendon becomes thin, weak, or if it is not used, it may be susceptible to injury or damage. Achilles tendon rupture occurs most often in middle-aged athlete participating in sports that involve running, pivoting, and jumping. Recreational sports that may cause Achilles rupture include tennis, racquetball, basketball, and badminton.
Causes
The causes of an Achilles tendon rupture are very similar to Achilles tendinitis. Causes include. Running uphill. Running on a hard surface. Quickly changing speeds from walking to running. Playing sports that cause you to quickly start and stop.
Symptoms
If your Achilles tendon is ruptured you will experience severe pain in the back of your leg, swelling, stiffness, and difficulty to stand on tiptoe and push the leg when walking. A popping or snapping sound is heard when the injury occurs. You may also feel a gap or depression in the tendon, just above heel bone.
Diagnosis
When Achilles tendon injury is suspected, the entire lower lag is examined for swelling, bruising, and tenderness. If there is a full rupture, a gap in the tendon may be noted. Patients will not be able to stand on the toes if there is a complete Achilles tendon rupture. Several tests can be performed to look for Achilles tendon rupture. One of the most widely used tests is called the Thompson test. The patient is asked to lie down on the stomach and the examiner squeezes the calf area. In normal people, this leads to flexion of the foot. With Achilles tendon injury, this movement is not seen.
Non Surgical Treatment
Nonsurgical method is generally undertaken in individuals who are old, inactive, and at high-risk for surgery. Other individuals who should not undergo surgery are those who have a wound infection/ulcer around the heel area. A large group of patients who may not be candidates for surgery include those with diabetes, those with poor blood supply to the foot, patients with nerve problems in the foot, and those who may not comply with rehabilitation. Nonsurgical management involves application of a short leg cast to the affected leg, with the ankle in a slightly flexed position. Maintaining the ankle in this position helps appose the tendons and improves healing. The leg is placed in a cast for six to 10 weeks and no movement of the ankle is allowed. Walking is allowed on the cast after a period of four to six weeks. When the cast is removed, a small heel lift is inserted in the shoe to permit better support for the ankle for an additional two to four weeks. Following this, physical therapy is recommended. The advantages of a nonsurgical approach are no risk of a wound infection or breakdown of skin and no risk of nerve injury. The disadvantages of the nonsurgical approach includes a slightly higher risk of Achilles tendon rupture and the surgery is much more complex if indeed a repair is necessary in future. In addition, the recuperative period after the nonsurgical approach is more prolonged.
Surgical Treatment
Surgery may be indicated directly following injury rather than conservative care. Repair of an achilles tendon rupture is greatly varied for each clinical situation. There may be a direct repair of the ends of the tendon with suture, or possibly a tendon graft used to augment the tendon. Post-operatively, the period of immobilization will depend on the size of the defect that was repaired and how it was completed. Usually the immobilization is between 6-10 weeks. This repair may allow for a complete return to normal function, but in many instances the healing is complicated with adhesions and a partial loss of range of motion. There may be a continued soft tissue defect noted and a permanent or prolonged swelling.